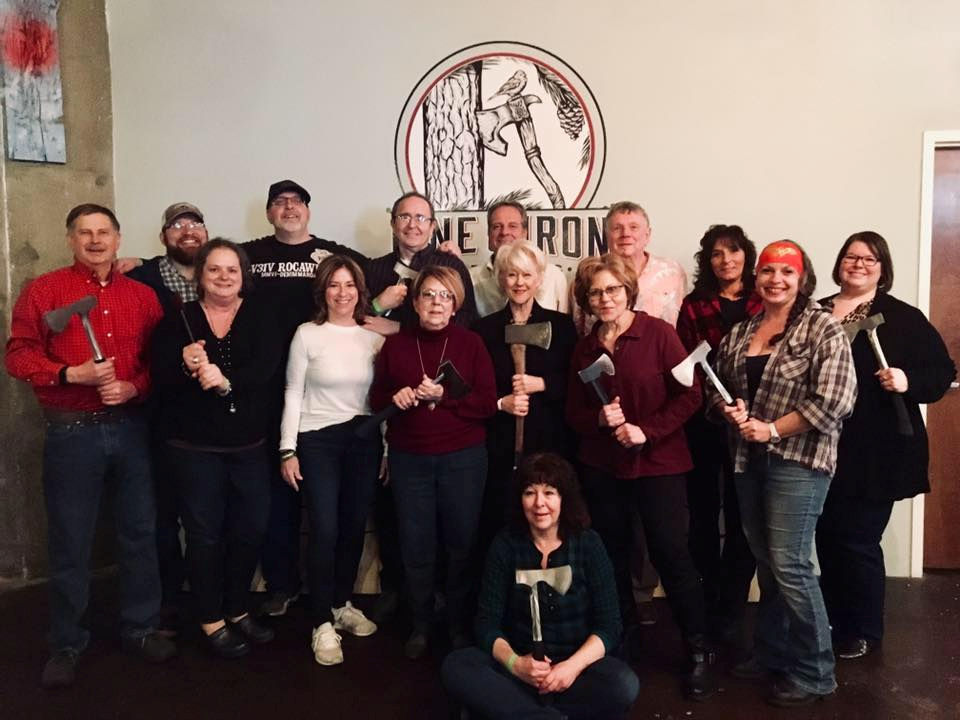 This year's Agent Recognition even was held Friday, February 8th at Pine & Iron Axe Throwing in Hartford and catered by Bears BBQ. Our annual outing celebrates everyone's accomplishments and participation in the previous year of outstanding sales production and customer service. We close the office for the afternoon so everyone has an opportunity to relax and enjoy each other's company where fun is the only item on the agenda. The axe throwing proved a little more challenging than anticipated but a great time was had by all.
As a small independent brokerage we are franchise-free and as such our full allegiance and commitment is to each other and not to the mother ship. It is an increasingly rare business model and often resembles swimming in shark infested waters. Franchises with headquarters across the country and no local ties to the community are luring agents from other companies with promises of better commissions, name recognition, signing bonuses and bountiful leads. There is also an undisclosed autonomy, lack of peer support, a highly competitive environment, and exorbitant referral fees, that many agents are not aware of, that can imperil their financial success and longevity. The statistics bear this out: 87% of all Realtors fail according to real estate coach Tom Ferry.
Last year we had a spectacular year thanks to the committed professionals below and their network of support from fellow team members, family, friends and new and past clients. Congratulations to all!! Although awards are generally based upon sales volume, at HST the truest measure of success is a healthy work/life balance, mutual respect for each other, collaboration with the team, and the personal satisfaction of doing the best you can do for your clients every day.
Top honors for 2018 at Home Selling Team were awarded to:
Michelle Garabedian 2018 Rookie of the Year
Jeanne Crum 2018 Quantum Leap Award for increasing her business by an astounding 69% over last year!
Sue Esposito HST Hall of Fame Award for reaching Titanium level for 5+ consecutive years!
We added a new agent to the roster this year, Sondra Reid. We are very happy to have her and are confident her future is bright with 10 years of real estate experience and extensive local ties. Check out Sondra's website and be on the lookout for our newest rising star in the local real estate market.