Twice this week a seller said to me, "We are selling as is." Upon further questioning in both instances, I realized their intent was not to repair potentially big ticket items that a buyer would fully expect to be functioning at time of purchase but they also did not think this would significantly impact their sales price. What?
Announcing that you are selling "as is" is notice to any prospective buyer and agents that you are aware of and expect there to be problems with some of the mechanics in your home and furthermore, that you are unwilling to address them. The buyer happy to see an "as is" listing is an investor looking to flip your home and you will receive an offer that makes more sense for the investor. Consider not using the term "as is" in your listing and be more open to making repairs beforehand if you want to maximize your sales price.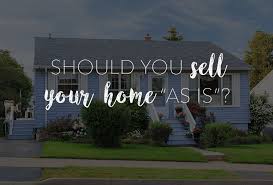 Many times, sellers have not heeded our advice and refused to repair, de-clutter and make small cosmetic updates that will net them more and save marketing time. Often, after several showings and negative feedback about these very issues, a seller will concede and start to address the recommendations and by then it's too late— buyers have eliminated it during its prime marketing period. This often results in a lower selling price than they could have gotten right out of the gate if the repairs had been made. As a seller in this instance, you may have to spend money to make money. Remember that you have a very small window, about 21 days, to make your best impression on the largest amount of potential buyers.
A pre-marketing home inspection can be useful in preparing your home for sale. If you have a hunch that your HVAC unit is not functioning efficiently or your roof may be at the end of its life, you can confirm this with the inspector and plan accordingly. You can make repairs or replace yourself or get quotes that you can provide a buyer if you absolutely cannot or will not do the work yourself. The quotes you receive can translate to a credit for the buyer or at the very least you have the start of a negotiation. You can make the report available to potential buyers so that they are confident that your home is ready for a new owner and there will be no surprises later that could impact the sale. Also, you will have a leg up on the competition, most listings will not have had a pre-inspection to alleviate buyers concerns.
If you'd like to discuss the pre-marketing inspection or get the advice of a professional Realtor about the condition and probable sales price of your home, contact us today. If you'd like an in-person visit by our team to assess condition and provide you with written feedback regarding suggested repairs and updates, ask us about our exclusive HSTimate.
Useful links:
20 Tips to Sell Fast & For Top Dollar
8 Things You Need to Know to Pass Your Home Inspection